From the monthly archives: January 2015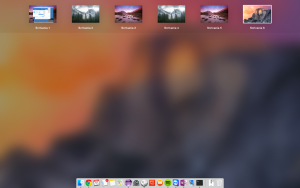 I couldn't wait to upgrade my MacBook Air Mid2013 to OS X 10.10 and that was a little mistake because I didn't check if all my devices had the drivers ready for Yosemite.
Everything went well except for my J5Create USB3 to VGA adaptor that allows me to enjoy a 3 screens setup: some parts of Yosemite's UI (eg: Mission Control ) become so laggy I couldn't use my computer.
Keeping the drivers up to date did not resolve the issue ( I am writing this post on 15th Jan 2015 ) so I had to find a workaround to maintain my 3 screens setup.
Here's my workaround:
I disabled the Window Trasparency: http://www.howtogeek.com/199201/how-to-disable-window-transparency-in-os-x-yosemite/
I disabled the animation of Mission Control: http://osxdaily.com/2012/02/14/speed-up-misson-control-animations-mac-os-x/
Those are not a solution to the problem but at the moment my setup is usable and I am pretty much happy.
Upgrading to Yosemite anyway is worth for the new features.